Christian Suit and Tie Mixer
As Seen on: Orlando Sentinel, Star 94.5, Z88.3, Christian Concert Alerts, TBO, Orlando Slice, and more…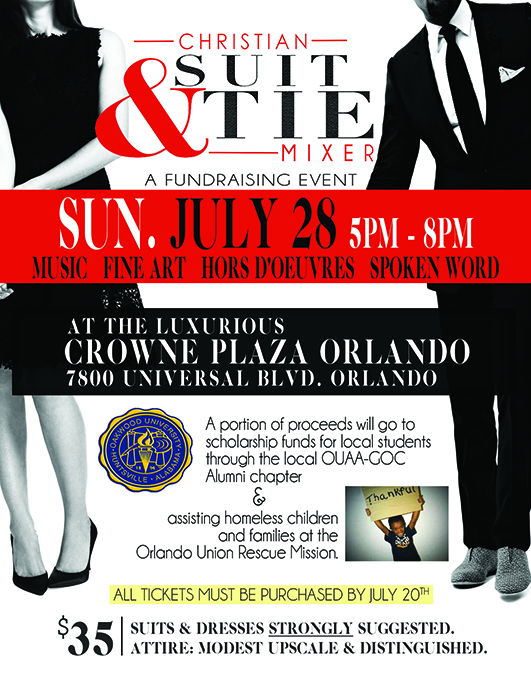 The biggest and hottest event to hit Christian Central Florida this summer is here. What do you get when you blend a cool Christian crowd with an elegant hotel, good food, and upscale entertainment and attire? Introducing the Christian Suit and Tie Mixer…Whether you're single, attached, coming with a group of friends, or are a married couple, there will be something fun for everybody.
Just imagine…You will be catered to with butler-passed hors d'oeuvres as well as self-serve stations while the photographer walks around snapping pictures. Your mind will be stimulated as you casually chat over fine art and the sounds of the Christian DJ. After you've mingled and perhaps won the raffle, enter the beautiful candlelit ballroom and escape to the sounds of spoken word, laughter, and much more.
Comedy: National Comedian Funnybone will be our comedian at the Mixer!


Albert "Funnybone" Harris is a national Christian comedian under the same management with giants Kirk Franklin, Mary Mary, Marvin Sapp, Adele, Jimmy Fallon, and more.
He travels the country sharing jokes, roasts and his testimony to a variety of audiences with physical comedy and realistic imagery. He spearheaded "The Clean Kings of Comedy Show", which was a sold-out show at the Florida Times Union Center in Jacksonville, Fl. and is a co-host of the Working The Word TV Show. FUNNYBONE performed on the Holla! Comedy Tour, the TDI Gospel Jamz Tour 2011 & The Tour That Angie BEE Presents. Currently FUNNYBONE serves as the host/comedian and Master of Ceremonies of the Tour That Angie BEE Presents.

Dress Code: Distinguished and Upscale. Strictly Enforced
Tickets:  christiansuitandtie.eventbrite.com Long's Christian (Altamonte), and Family Christian Bookstore (Millenia)
Contact Information: themodernfam@yahoo.com (407) 480-7801 (407) 235-8210
Dress Code, Important Info & Tickets at >  christiansuitandtie.eventbrite.com 
TICKETS AVAILABLE UNTIL —-JULY 20— THIS EVENT WILL SELL OUT. ADMISSION IS NOT GUARANTEED AFTER THE 20TH. IF YOU ARE READING THIS AFTER THE CUTOFF DATE, PLEASE CALL/TEXT US TO CHECK ON AVAILABILITY AT 407 480-7801 OR  407 235-8210