Resplendency's Thankgiving Celebration – ONLINE
Date/Time
Date(s) - 22 Nov 2020
4:00 PM - 5:00 PM
Location
Resplendency, Inc.
Category(ies)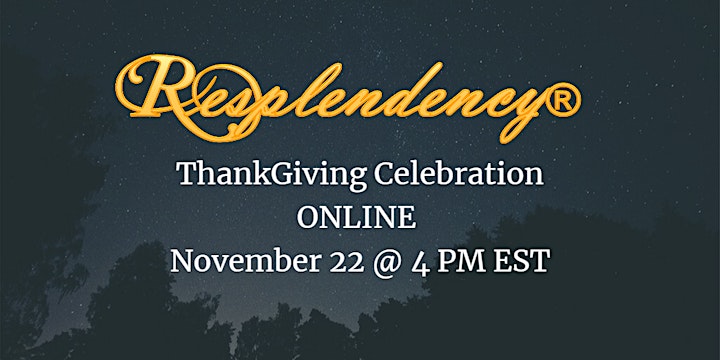 Although we've walked through some difficult times, it's still important to give thanks!
We Welcome all of you for an important message regarding thankfulness.
Psalm 105:1. Give thanks to the Lord and proclaim his greatness. Let the whole world know what he has done.
Ephesians 5:20 And give thanks for everything to God the Father in the name of our Lord Jesus Christ.
1 Thessalonians 5:16-18 16 Rejoice always and delight in your faith; 17 be unceasing and persistent in prayer; 18 in every situation [no matter what the circumstances] be thankful and continually give thanks to God; for this is the will of God for you in Christ Jesus.
Thankful that He, God, loves us so much!
Psalm 92:1 It is good to give thanks to the Lord, to sing praises to the Most High
Colossians 1:3 We always pray for you, and we give thanks to God, the Father of our Lord Jesus Christ.
Resplendency's Thanksgiving Celebration – ONLINE will go live on Replendency's Youtube Channel please SUBSCRIBE and RING THE BELL to get the notification when this special event goes LIVE.
Date And Time
OUR Special Thanksgiving event goes LIVE ON Resplendency's Youtube Channel, On Sunday at @ 4 PM EST
For questions or concerns please CONTACT RESPLENDENCY via email at nancy@resplendency.com or by calling (407) 732-7422.
www.Instagram.com/resplendencyinc
www.Twitter.com/ResplendencyInc